Just the other day, I was craving cheesecake and looking around pinterest. Usually looking at pinterest while hungry is not a good idea but this time it was. I found several pins where people combined cheesecake and brownies. Cheesecake and chocolate!? Could it get any better!? I had to try it! And that's just what I did today.
You know you want to try it too so here's what to do:
Combine the ingredients for your favorite brownie recipe and your favorite cheesecake recipe in separate bowls. I was a little lazy this time and used a brownie mix. Pour the brownie mixture (saving about half for later) into a 9x13 cake pan. Add the cheesecake mixture on top of the brownie mixture. Dollop the remaining brownie mixture onto the cheesecake mixture and gently swirl it to create a marble effect. My little helper got a little over zealous with the marbling so it kind of disappeared in places. But that didn't effect the taste! Bake at 350 for about 40 minutes. Cool before serving.
My helpers: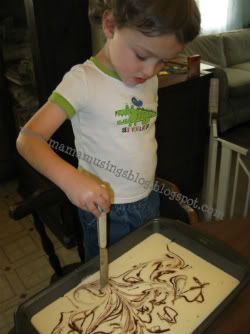 The finished product: Yum!


Stay up to date by following me on twitter @MamaDaniBlog or "liking" my Facebook page. New followers: Welcome! Please leave a comment to let me know how you found my blog so that I can follow you back!
© Mama Dani's Musings