The safest seat is the one that fits your child correctly, installs correctly in your vehicle and is used correctly every time. The harness needs to be tight enough that you cannot pinch a horizontal fold at the collar-bone. The chest clip works in conjunction with a properly tightened harness, to ensure the harness remains in the correct position across the child's body in a collision. The chest clip is plastic - it will often break in a serious collision. But if it's kept the straps where they should be, then it's done it's job. The chest clip should be positioned at the armpit level of the child. Properly strapping your child in is extremely important as it prevents him from being thrown from the car seat in the event of a crash.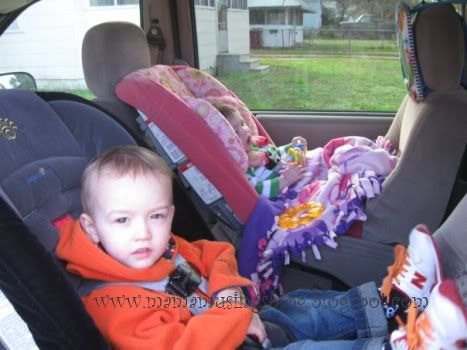 Third-party aftermarket products are also a safety concern. There is no legislation on after-market products, and these products are not crash-tested by the National Highway Traffic Safety Administration (NHTSA). Most car seat manufacturers also state in their manuals to avoid using any product with the seat, that did not come with the seat.
Car seat bags, strap pads and head supports can all interfere with the harness routing or being tight enough. In a collision, the harness will be pulled taut, and fabric layers compressed, potentially causing your child to be partially or fully ejected from the seat. Cushions and head supports have slots for the straps and they may not line up right. This reroutes the straps which can also add slack.
What can you do?
Head support:
Avoid after-market head supports that go behind the child - unless it came with your seat. If your seat did not come with a head support or your baby requires additional support, you can tightly roll up two receiving blankets and tuck them on either side of your child's head, after tightly buckling them in. If baby's head flops forward when they sleep, double check to make sure their seat is at the proper angle (45° for a baby that can't hold their head up on their own).
Car seat bags/winter coats:
Avoid heavy coats and bundling systems that go behind the child. Shower-cap style infant seat covers are safe as they don't interfere with the harness. For children in convertible/forward facing seats, dress the child in layers. Fleece is thin, warm and ideal for using in the car. If your child is not warm enough, add a blanket, poncho or even a winter jacket backwards over the child.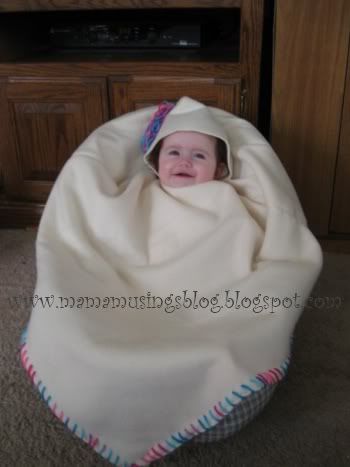 Car seat poncho
Videos:
Snowsuits/Winter Coats and Car seats
Winter Coats and Car seats Don't Mix
The rest of the series:
Part 1 / Part 2 / Part 4