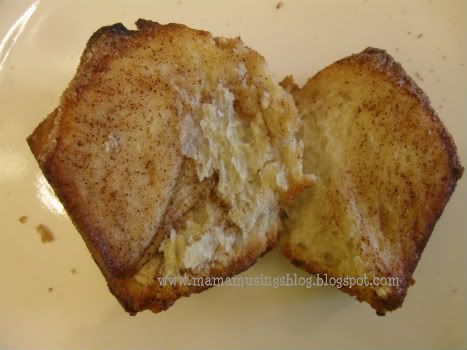 Mine didn't come out as pretty as the one from the
original blog post
but it was still
very
yummy!!
The directions are
here
but here are the ingredients you'll need:
For the Dough:
2 3/4 cups plus 2 tbsp All-purpose flour
1/4 cup Sugar
1 envelope(2 1/4 tsp) Active dry yeast
1/2 tsp Salt
2 oz Butter
1/3 cup Milk
1/4 cup Water
2 large Eggs
1 tsp Vanilla extract
For the Filling:
1 cup Sugar
2 tsp Cinnamon
1/2 tsp Nutmeg (turns out we didn't have nutmeg but it turned out just fine.)
2 oz Butter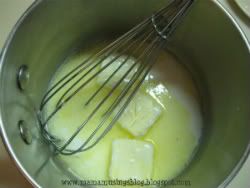 The dough starts out very sticky but is much more manageable after being in the fridge over night. The dough last night:



This morning, the fun began! That's a lot of cinnamon and sugar!!



The waiting was the hardest especially when the wonderful aroma started coming from the oven. Even the kids, who usually have to be tricked into eating breakfast, were getting antsy. Fresh out of the oven:

Idea from
this pin
.

Stay up to date by following me on
twitter @MamaDaniBlog
or "liking" my
Facebook page
. New followers: Welcome! Please leave a comment to let me know how you found my blog so that I can follow you back!