Hurricane Irene came to visit Saturday afternoon/evening and at the last minute we decided to evacuate. We left bright and early Saturday morning...though I had a little bit of hesitation when we woke up to some rain and wind already.
Sean was beyond excited about our road trip. He even woke up before the alarm!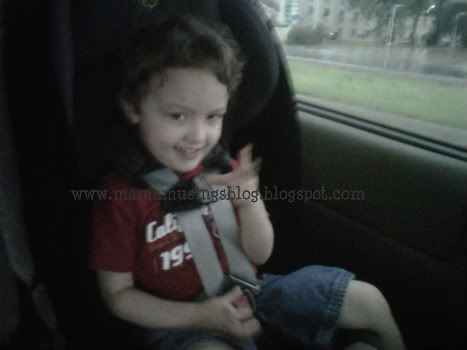 First thing on the to do list was to drop the dogs and cats off with friends and family. We did have a little stow away though.
It rained the whole trip but by the time we got to our destination it was just sprinkling... much better than what was going on at home. By the time we got there it was time for lunch. Through out lunch the lights kept flickering..that would be our luck, run away from a hurricane only to be without power any ways. Power never went out, thankfully. On the way back to the motel (or show and tell, as Sean kept calling it), Maddy decided she wasn't done eating.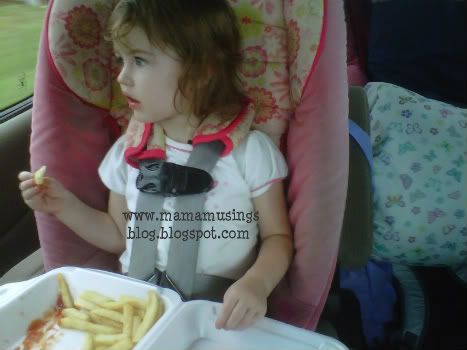 We hung out in the motel the rest of the day watching the news. Sean insisted on bringing homeschooling stuff so he did some work sheets and we played some games.
He also watched Uncle Justin play games.
Sean and Maddy listened to a story on Grandma's Nook.
Maddy took a nap with Granddad.
Later she enjoyed the blocks we brought with us.
And we found a movie on TV for before bed.
In the morning we all had our showers since we knew we were going home to no power. We went out for a big breakfast and started the ride home.
Maddy napped while hugging her shoes.
We knew we were getting closer to home when the number of downed trees increased.
We were very fortunate that our house was fine. Just at the corner of out street we found signs of Irene.
Our street sign was twisted completely around.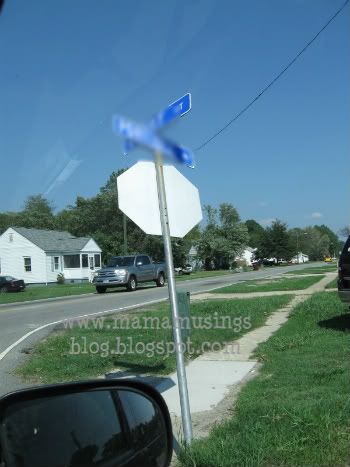 And the reason our power was out? A tree fell on the lines.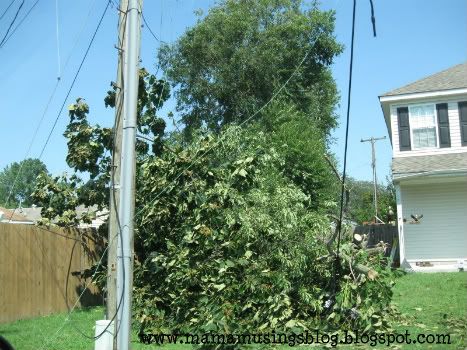 Just a couple blocks away we found another downed tree.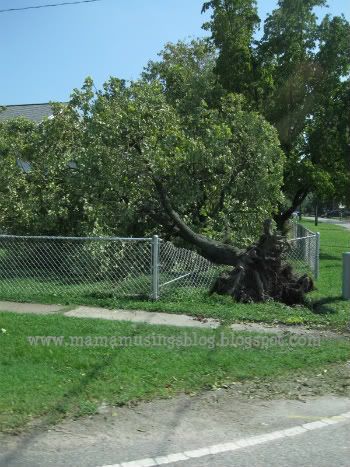 Then a little farther, it looks like a tornado touched down.
All those oil bottles are from the back of the store.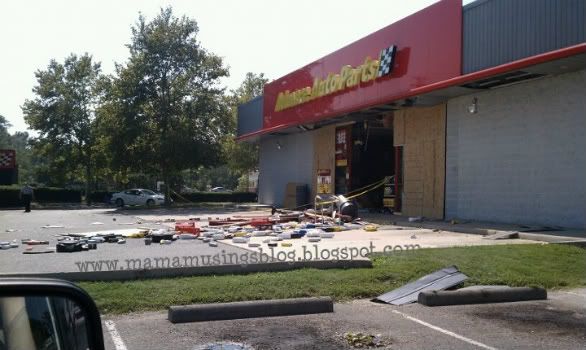 I heard a lot of complaining early this week about the power being out for so long. Yes, we were without power until very late Tuesday night. But our family and home are fine. There are many people that were not as fortunate. That's also not mentioning that there were a million people that lost power. Even with all the out of town people coming in to help and all of them working very long hours, it's going to take time. It could have been worse even for the people that only lost power. The weather after Irene has been beautiful and cool (except for Sunday). I wonder how many people thanked the workers vs sent complaints to the company. That's my rant for the day..
A couple of good things happened during Irene. On Saturday I had a huge jump in hits. My normal daily number is 20-30. On Saturday I had 128 hits! That was exciting to see! We came home to another nice surprise. Our last Luna Moth had emerged. We decided to name her Irene. Isn't she beautiful!?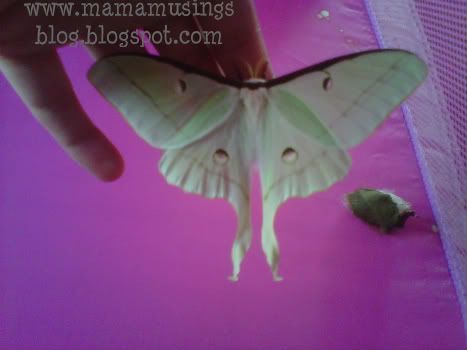 Stay up to date by following me on twitter @MamaDaniBlog or "liking" my Facebook page. New followers: Welcome! Please leave a comment to let me know how you found my blog so that I can follow you back!
© Mama Dani's Musings