I almost put this on my new year's resolution list but it seems so cliche. I want to work on a healthier lifestyle: healthier eating and exercising. I'm not doing this to lose weight because I'm pretty happy with the numbers on the scale. What I'm not happy about is the fluff around my middle.
I'm nursing so I don't want to limit what I eat by "dieting". I just want to make better food choices and I'm off to a good start. I made some changes while pregnant like replacing soda with water and cutting back on coffee. Then immediately postpartum I craved a lot of healthy foods. I'm determined not to let these changes revert back to what I use to be. I'm not stopping there; I want to make my eating even healthier. What I'm working on now is healthier snacks. I'm doing good at the moment; my favorite snacks right now are yogurt, bananas, cucumbers, salads, dry cereal (kid size bowl of honey nut cheerios), hard boiled eggs and peanut butter crackers. I try to ignore the cookies and such that hubby insists on having in the house for snacks and avoid buying the things I know I will snack on before the healthy stuff (chocolate!!!). I do great during the day, not so much between dinner and bedtime.
Exercise is sadly pretty nonexistent. I've tried in the past to workout regularly (usually a new year's resolution). I start off really strong and slowly slack off. I'm not really sure what happens other than I just get lazy. I need to figure out how to prevent this from happening this time around. I'm going to make ab work outs and cardio part of my everyday routine. I need to just find the motivation and a way to keep the motivation. Last night on
Facebook
I asked,
"

Do you exercise regularly? How do you stay motivated?"
. I heard two things that I think could help me stay motivate: find a workout buddy and do something I enjoy. The first thing that comes to mind is dance. I love to dance! I took dance lessons from the age of 4 until I was 5 months pregnant with Sean...yes, I was the one tapping on the stage at recital with a preggo belly. :) Some sort of dance workout would probably be great for cardio. Now to find one (preferably cheap/free and can be done at home) and to find a workout buddy.
Just for fun, my first dance recital: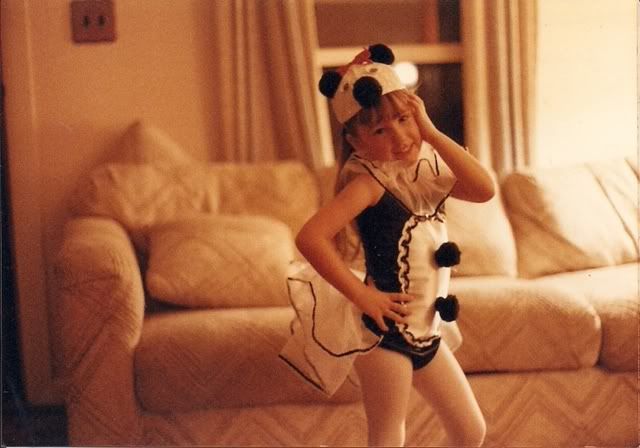 Stay up to date by following me on twitter @MamaDaniBlog or "liking" my Facebook page. New followers: Welcome! Please leave a comment to let me know how you found my blog so that I can follow you back!
© Mama Dani's Musings