We're are more serious about homeschooling this year...well, as much as you can with pre-k4. What I mean I guess is the main goal this year is to get into a good routine and stick with it. When we did the outer space theme, we pretty much just did the unit study. I did some thinking and thought maybe it might be best to ease into a routine. So, we are going to add a subject a week until we're were we should be at. This week we did a smaller unit (that will in a way spill over into next week) and added literacy (letters, phonics and writing).
Our unit is based on
Chicka Chicka Boom Boom
. A
friend
shared a lap book idea with me and I added onto it so that it could go into next week. I didn't have any file folders but I have lots of over sized construction paper. I made the construction paper work. This is the first lapbook we've made. Sean really enjoyed putting it together. He even picked it out one night for his bed time story.
I added a few extra things that were not in the original lapbook or in the add-ons. Sean knows his first name pretty well so I added another mini book for his last name. Sean really likes playing a matching game with the upper and lower case letter cards so I printed out more coconut cards and added dots to make a number matching game for next week. Tree book was a big hit because he can read it by himself.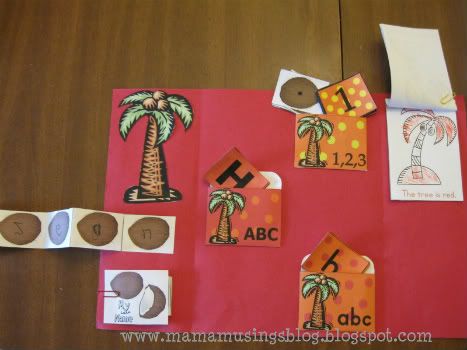 The original lapbook can be found here and the add-ons can be found here.
We also did a simple craft. The trunk is their arm print, the leaves their hand prints, the coconuts their thumb prints and they used stamps to make the letters up the tree.
Sean played Go Fish for the first time but we used the alphabet flash cards we already had. He loved it! Doesn't help that he has beginners luck and won. ;)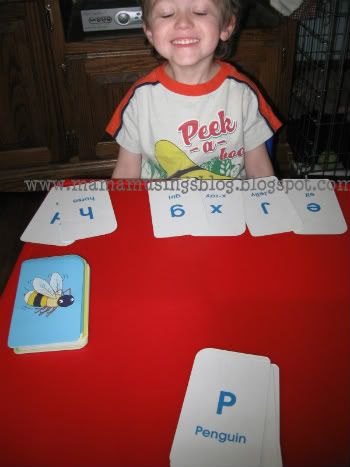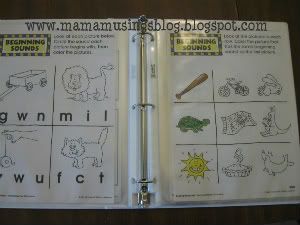 Along with the unit study, I made notebooks for worksheets. Sean really likes to do worksheets and we have a ton of workbooks that were given to us (partly used) and a few that I bought. I went through them and picked the pages I thought were the best to make his pre-k4 book. I'm sure we'll add on to the notebook as the year goes on but right now it has beginning sounds, rhyming, and patterns.
I made a separate notebook for handwriting. I actually cut and pasted from existing worksheets to create the worksheets that I wanted. Instead of him learning to write the letters in alphabetic order, I wanted to group the letters like this:
http://teachingtoday.glencoe.com/lessonplans/handwriting-group-upper-and-lower-case-letters

Maddy couldn't be left out so I made her a notebook with colors, shapes, go togethers and tracing. I used page protectors in all the notebooks so the worksheets can be used over and over again. The kids also love using the markers! -- a win/win!



My little ones hard at work: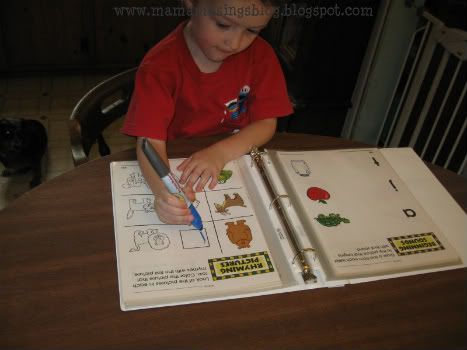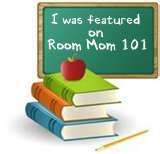 Stay up to date by following me on twitter @MamaDaniBlog or "liking" my Facebook page. New followers: Welcome! Please leave a comment to let me know how you found my blog so that I can follow you back!