Wow! I'm 20 weeks already, about half way till we get to meet our little Jellybean!!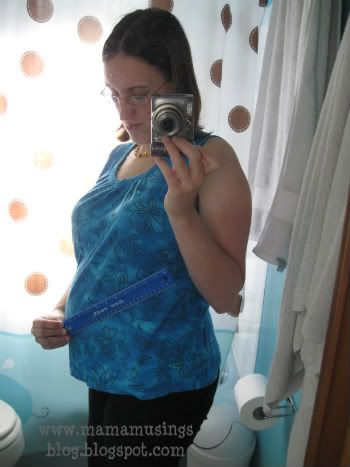 The ruler shows 10 1/2in...about how long Jellybean is this week.
This pregnancy is getting more real. Up until a couple of weeks ago, there were days where I could almost forget that I'm pregnant. Not so much any more. It really hit me a couple weeks ago when a stranger asked me when am I due. Then I surprised myself. With Sean and Maddy, I was quick to say my due date. This time, I just said January. I wholeheartedly believe that there's a due month (so going 2 weeks my due date would be normal) rather than a due date but I still focused on my due date when I was pregnant with Sean and Maddy. Not so much this time I guess..
I'm also feeling Jellybean even more now. He/she tends to be more active first thing in the morning, at the kids' nap time and at night. I'm feeling him/her more than I felt Sean or Maddy and that's exciting. I can't wait until Richard and the kids can feel him!
I'll have an ultrasound scheduled soon but the blue and pink are going to have to wait. We're team green this time. That's right, we're not finding out the gender until January. I'm normally an impatient person when it comes to surprises but I'm pretty excited about waiting this time. However, I am getting boy vibes..we shall see! We've started our name search and have a small list going..key word "small". I'm not sharing that just yet either. We may share the final boy and girl name once we have it narrowed down but not until then. BTW, Why are girl names so much easier!? So far we have a few girl names but only one boy name..

Stay up to date by following me on twitter @MamaDaniBlog or "liking" my Facebook page. New followers: Welcome! Please leave a comment to let me know how you found my blog so that I can follow you back!