Our final week on outer space was spent learning about astronauts and space travel. We checked out the video
The Big Space Shuttle
along with a lot of books from the library. For our project, I wasn't sure what we were going to do until I was drinking a soda and thought that the small soda bottle kinda looked like a space shuttle. So I saved a few.
Hot glue guns are great but I like the kids to do as much of the project as possible. I thought back to a
blog post from Teacher Tom
awhile back and decided to try something. While the 2 year olds (Maddy and Aiden) slept, Sean helped my with the hot glue gun parts.
First he had to learn to use the hot glue gun.



Once the others were awake, they painted the bottle caps.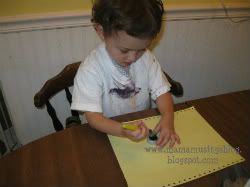 And added stickers



The finished products: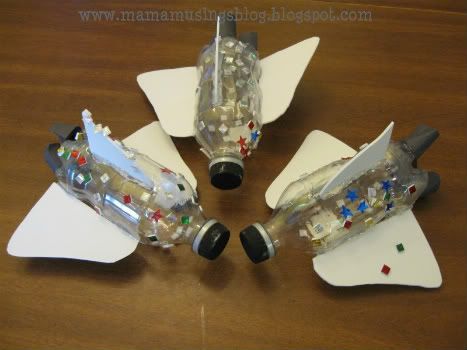 We had an astronaut lunch on Monday and a shooting star lunch later in the week.


Stay up to date by following me on twitter @MamaDaniBlog or "liking" my Facebook page. New followers: Welcome! Please leave a comment to let me know how you found my blog so that I can follow you back!