I'll start from the
beginning
. Keme had a temperature drop yesterday morning. That was our first warning that it wasn't going to be long. That night she was nesting, panting and started leaking. I thought she may have them over night but she didn't. This morning her temperature was still low but she was now panting and shivering. She spent a lot of time stretched out in her box.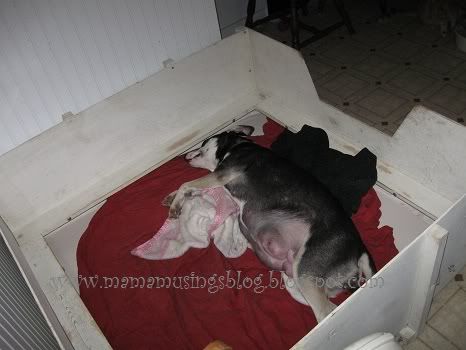 So I double checked that everything was ready.
The emergency station and her box: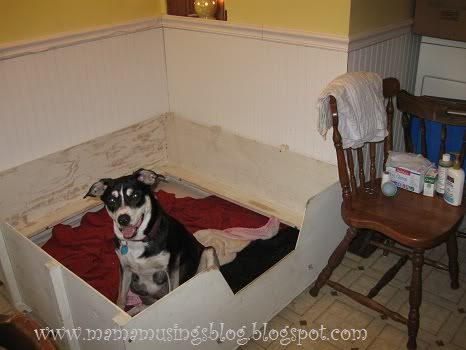 The weighing/marking station. The fabric collars got replaced with string because the fabric kept coming untied.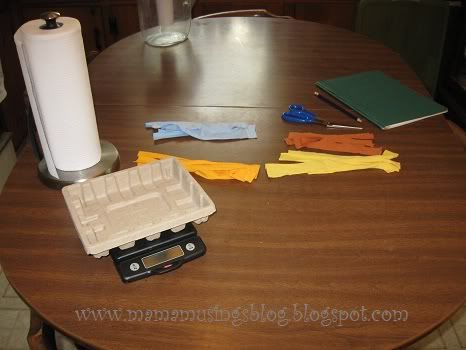 About an hour before she gave birth to the first puppy, she got very clingy. The first puppy, a boy, was born at 3:45pm weighing only 115g/4oz...he was a stillborn.
Over the next 4 hours, she had 8 more puppies!! She did great! Only a couple really needed suctioning and only one needed me to take the bag off.
Puppy 2: 4:15 Male 363g/12.8oz
Puppy 3: 4:33 Female 445g/15.7oz
Puppy 4: 4:49 Female 371g/13.1oz
Puppy 5: 5:31 Female 360g/12.7oz
Puppy 6: 5:41 Female 346g/12.2oz
Puppy 7: 6:25 Female 380g/13.4oz
Puppy 8: 7:14 Male 414g/14.6oz
Puppy 9: 7:37 Female 325g/11.5oz
Pictures!
Resting after #2



After #3



Nursing!



Water break



All done! Good job mama!!



One of the cats had to check out what was going on.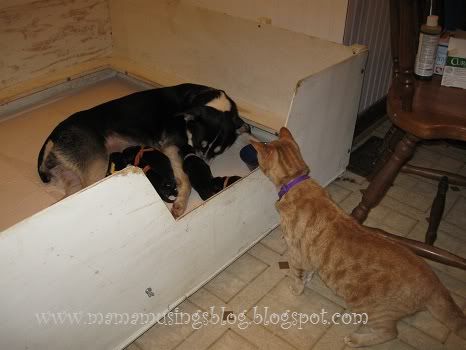 Sean funny: Sean saw Keme cleaning a puppy and her freaked out say "Mama! She eating baby puppy!" So I had to explain that she was just cleaning her. He also wants to make a picture for the puppies. We'll do that tomorrow. :)

All snuggled together in a basket while mama had a potty break/sponge bath and I cleaned the box.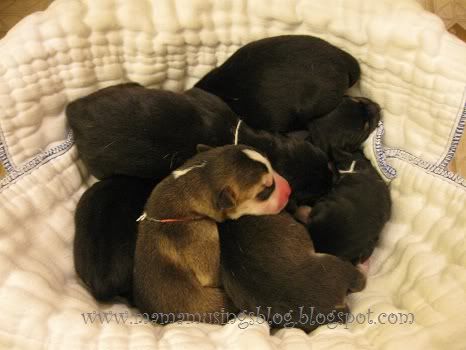 Time for the close ups! Their names for now are their color on their string.
Red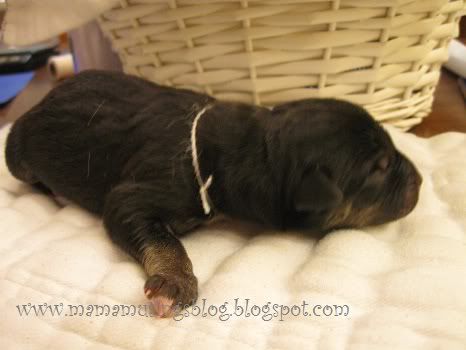 Orange



Yellow



Green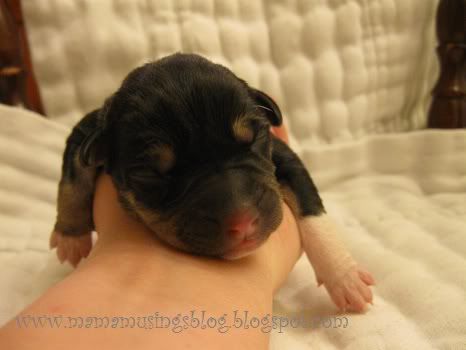 Blue



Purple



Black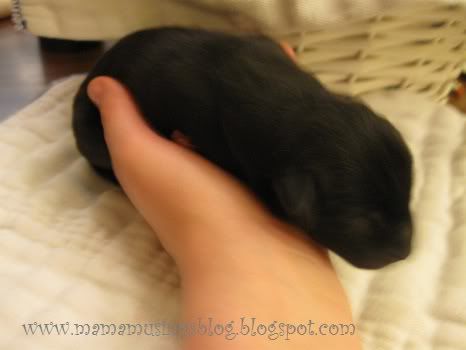 Brown