This week we took a break from our themed school weeks. I had spent some time in the beginning of the month doing a lot of lesson planning. I thought I had done a month's worth of planning only to realize Monday that I had nothing for the week. So, this week we just played it by ear which meant it was a lazy week. Wednesday we went to our weekly story time at the library and the kids pick out books. The rest of the week was just a bunch of playing, reading and painting. We ended the week with a new friend (new drop-in daycare kid) to play with.
Finger painting..messy but oh so much fun.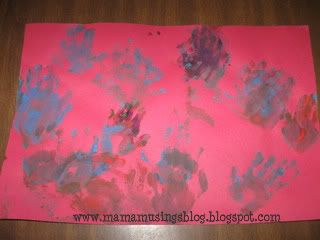 My little reader..I think he enjoys looking at the books and making his own stories as much as me reading to him.
Books the kids picked out:
Little Apple Goat- Caroline Church
Rain Dance- Kathi Appelt
Tarzanna- Babette Cole
The Dog Who Cried Woof- Nancy Coffelt
The White Seal- Rudyard Kipling