After a bit of a break, we're back on track. This week we talked about winter: winter weather, winter clothing and a little bit about winter sports. The little girl I watch was not here on Friday so Friday's project has been pushed back to next week.
We decorated the front window with paper snowflakes.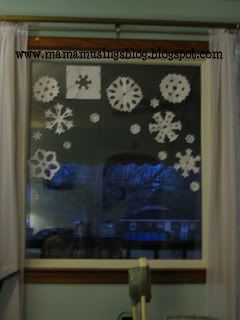 And made snowmen from glue.
This week's reading list:
Katie Discovers Winter -Liesbet Slegers
It's Winter -Linda Glaser*
The Snowy Day -Ezra Keats
Snow is Falling -Franklyn Branley
The Mitten -Jan Brett*
Angelina Ice Skates -Katharine Holabird*
*=favorites