Fall is in the air! This week we extended our prior lesson on autumn with a lesson on harvest time. It was perfect timing because we ended the week with Autumn Fest at the arboretum.
Sean's scarecrow: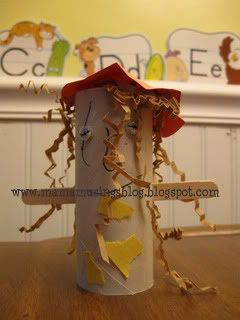 And tractor: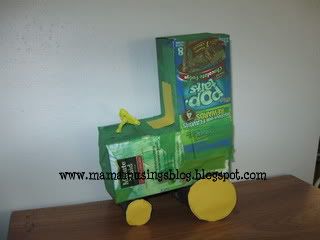 Autumn Fest
The kids had fun at Autumn Fest but might enjoy it better next year. They had many crafts for kids to do, including making a scarecrow, but Sean wasn't interested. They really enjoyed the tractor and hay bale maze though. And as always, kids love to make their parents liars and make us scratch our heads in confusion. Shy guy Sean who didn't want to do crafts b/c of the other people around had no problems with Woodsy Owl (mascot type thing who's motto is "Give a Hoot, Don't Pollute"). He actually asked to meet him, walked up to him, said hi and gave him a high five.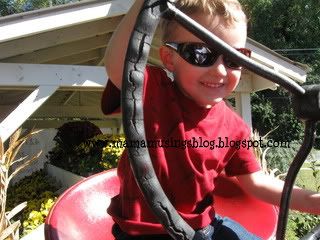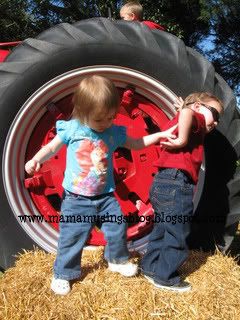 *A little note; I'm going to start adding our week's reading list at the end of bloggings so I've gone back and edited past posts with the books I can remember.
This week's reading:
The Little Red Hen -Byron Barton
Strega Nona's Harvest -Tomie DePaola
The Scarecrow's Dance -Jane Yolen
Hello, Harvest Moon -Ralph J. Fletcher