October 3-9 was Fire Prevention Week so that was our theme. We started this week with talking about what fire was and why it was dangerous. We did an experiment with a candle and water. Sean watched how the water put the fire out; like a fire fighter uses a hose to spray water on a fire. I tried to teach Sean stop drop and roll but he just laughed at me. We talked about what would happen if there was a fire in the house....smoke alarm, fire fighters... So I went to let him hear the smoke alarm. I pressed the button, nothing happened. Ooops. We got new batteries. Still nothing! Uh oh! Time to go shopping. We are now owners of brand new smoke alarm and carbon dioxide detector. And you better believe we'll check them often! We ended the week with a walk to the fire station a few blocks away. The bay doors were open so Sean got to see the trucks. There were a couple of fire fighters outside washing a truck but Sean didn't want to go say hi. Maybe next year.
This week's craft was making a fire with paint. I placed dabs of red, orange and yellow paint on the paper and Sean used a straw to blow the paint into shape.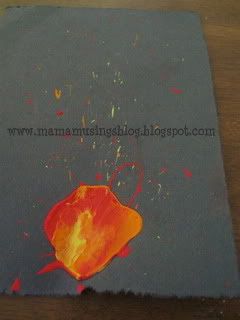 This week's reading:
The Little Fire Engine -Lois Lenski
The Fire Station -Robert N Munsch
This past week was a no theme week. Sean just wanted to work with numbers and letters so that's what we did.