Better late than never, right? The weekend before Halloween we carved pumpkins and did a pumpkin experiment.

The kids' pumpkins. The top one is Maddy's. She helped daddy draw it then he carved it. The bottom one is Sean's. He drew his design all by himself and then I carved it.



Our pumpkin experiment included smaller pumpkins. I simply cut off the tops and the kids added dirt and water. We're trying to grow more pumpkins from them.


Inspired by this pin/website.

We also wanted to try this pin but the blog is password protected and the directions on the pin didn't work too well.

Then came Halloween night!! The kids were so excited. I was excited because they wanted to be ghosts. You can get any easier or cheaper than that! A sheet each, white sweatshirts, white face paint, white hair spray and you get this:



Checking out their loot mid trick-or-treating.
Maddy said "I need more candy!" and ran up to the next house.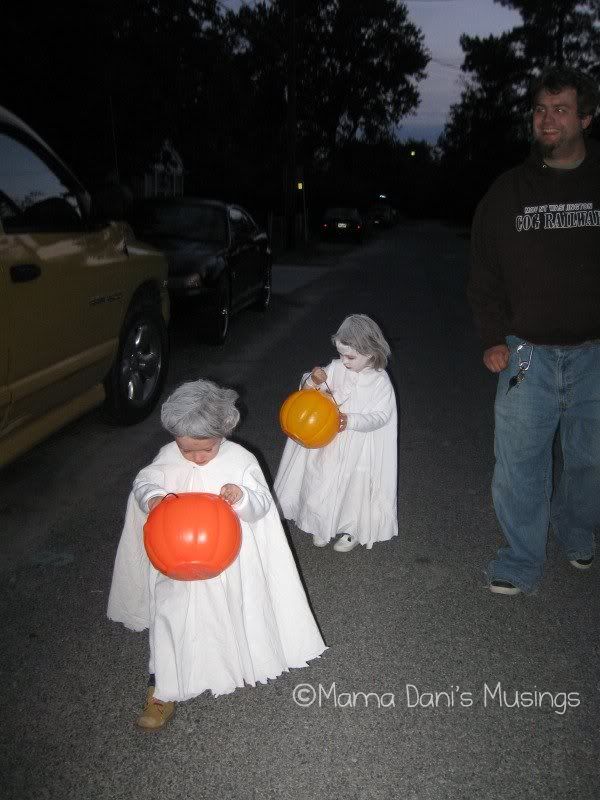 Stay up to date by following me on twitter @MamaDaniBlog or "liking" my Facebook page. New followers: Welcome! Please leave a comment to let me know how you found my blog so that I can follow you back!
© Mama Dani's Musings