The big announcement is...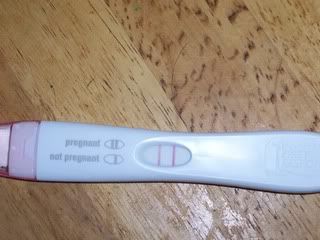 I'm pregnant!!!!!
Yep! I'm due November 6th! DH and I are beyond excited! We found out right before my birthday. It was the best birthday gift ever! About two weeks later I had my first doctors appointment. It took forever but the doctor said he was going to do an ultrasound. At six weeks you can't see much but we did see the heartbeat! It was so amazing! I went back to the doctor this morning. I'm 10 weeks. Everything looks great and I got a quick peak at our little peanut. They were only going to use the doppler to hear the heartbeat but our little one had other plans. The doctor found the heartbeat and immediately lost it. As he put it... "So, you're(baby) going to give us a hard time, huh?". So, he then pulled out the ultrasound machine. As soon as the doctor put the ultrasound on me, the baby jumped...almost completely out of view. But we were able to see the heartbeat which looked very good. I didn't get a print out this time since it was only a quick peak to see the heartbeat but here's what I saw at 6 weeks...
The baby is the oval on the left. The circle on the right is the yolk sac. You can see a white line on the right of the baby, right in the middle, that is where we saw the heartbeat.