My little peanut is 6 months old today.
It doesn't seem like it's been half a year already! He has recently started pulling up on people that sit next to him. I can easily see him becoming mobile real soon. He's a wonderful baby...happy most of the time. He amazes me everyday and I can't imagine my life without him.
What makes this a big milestone is the fact that 6 months is a big milestone for him to be still breastfeeding. According to the CDC in 2004 (that's the newest data they have) about 73% of mothers started out breastfeeding. By 6 months, that number drops to about 41%. I absolutely love breastfeeding Sean. Not only is it the best thing for him, there's also benefits for me, emotionally and health wise. I could go on and on about the health benefits for Sean and I but I won't. Emotionally, it's a self esteem boost. I am so proud that I've stuck with it. He has not had formula since he came home from the hospital (he only had it there when I couldn't be there) and he's only had a handful of bottles. He hates bottles...only straight from the tap for him!
I'm proud that my body has nourished him since birth...he has not needed anything else and will not need anything else for another 6 months (he will have solids but he doesn't
need
them yet)...it's amazing that the female body can do this! I love when he gazes into my eyes as he eats...and then gives me a huge smile while milk goes everywhere. lol And this is only the beginning...at least 1 1/2 years to go. I can't wait to see what that brings!
One of the first times he nursed: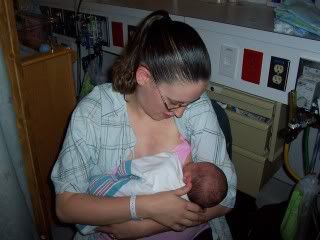 Today: